Life-Changing Products for the Busy Girl Who Loves Full Glam
Updated: Sep 21, 2020
We live in a fast-paced world where we're trying to balance school, work, a social life, and, for some guys and girls, full glam. Loving a beat face but not having the time to achieve it can be frustrating. Busybodies can't afford to sacrifice an hour in front of the mirror to get ready. However, no matter how hectic my school/work schedule is, I will always find a way to show up in full glam. Over the years, I've compiled a list of products that have helped me cut down on time and I'm letting you in on all the secrets. Are you ready?
1. Eyebrow Tinting
First thing's first. It's important to note that the 'eyebrows' step in my makeup routine alone takes an hour (and that's on a good day). I also can't commit to permanent makeup because my style changes with my mood. If this sounds like you, then you need to hop on this trend called tinting your brows. I discovered the magic of eyebrow tinting in the summer of 2017 when I wanted to waterproof my eyebrows at the beach. Let me tell you, my brows stayed untouched through all the rubbing and the washing for 10 whole days. The miracle product I use is men's beard dye and it can be found at any Walgreens or Target.
The product is totally safe to use on your face, however, just make sure not to get it in your eyes. The cool thing is, this dye not only stains the hairs on your brows but also the skin it touches. Doing this takes me 30 minutes on a Sunday night and gives me killer brows for a whole week. For a full tutorial on how you can wake up every day with snatched brows follow the video here.
2. Magnetic Lashes
Don't get me started with false lashes. If you're one of the gifted few who can put on lashes with their fingers in a minute, then you can go ahead and skip this tip. However, if you're someone like me who re-glues their lashes on 5 times before they're ready to go, then you need magnetic lashes.
I'll admit that they are a little intimidating to use at first but after a couple of times, you'll surely prefer magnetic lashes over regular lashes. Aside from staying put on the eyes for a full day, these magnetic lashes are ON within seconds.
3. Multi-use Makeup
These products come in a cream or a liquid that can be used on your eyes, lips, and cheeks. I cannot count how many times these 3-in-1 products helped me get ready in a glimpse of a minute. Color and formulations all depend on you but the e.l.f products (such as this one here) are the most affordable and work just like a high-end products.
4. Blow-dry Brush
This product has completely transformed my confidence. Usually, when I would finish doing my makeup, I would just ignore my hair and put it into a messy bun. It would defeat the purpose of doing full glam in the first place, but I simply had no time to wait for tools to heat up.
Getting a blow-dry brush this past Christmas has me walking around feeling like Beyoncé. It gives the perfect blowout effect and leaves my hair feeling SMOOTH. That's definitely saying something considering that my hair is completely fried from bleach.


5. Gradual Tan Lotion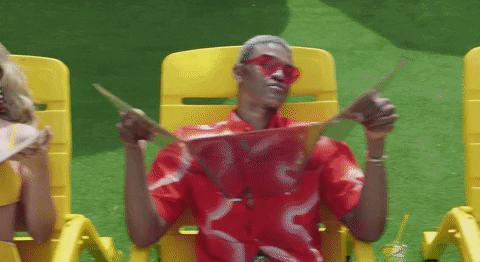 Part of a full glam is the glow. For busy gals who do not have time to lay in the sun or apply self-tanner, gradual tan lotions will be your best friend. Since you are going to apply lotion every night, implementing this product won't change anything. Oh wait, it will. Get ready to wake up looking like a bronzed goddess.
This gradual tan lotion will give you the perfect sun-kissed shade in just 3 days. Bonus? There's also one for the face!
That's all you need to achieve that full glam look when you have little time on your hands! These products have cut down my time getting ready from an hour to just 30 minutes. You'll have a fully beat face and flawless hair. Are there any products you swear by? Let us know below!